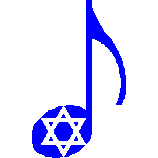 Track: 8
Running Length: 5:39
I search and I wander, lost and alone
My friend's but a shadow, and no place my home
The sun shines so strongly, but I cannot see
The road is too steep with no passage for me

I'm merely a child, but inside I've grown old
The world cannot touch me, for each touch is cold
The warmth that I search for is nowhere in sight
I see only sorrow, I see only night

A voice came to greet me, extending its heart
A voice pleading softly, "do not stand apart"
A voice giving warmth I'd not known before
A voice casting light as it opened the door

I followed that voice, and soon I could see
A room filled with children all welcoming me
The beauty of Torah was drawing me near
A light in the darkness, so pure and so clear

That voice is still with me, it hovers above
It echoes my feelings, it fills me with love
The sounds all around me awaken my soul
My heart is so youthful, though I have grown old

I still cannot rest, my work is not done
I dream of young voices resounding as one
So much yet to ponder, so much I must do
The voice I have followed must reach every Jew

I'll follow that voice and soon I will see
A room full of children all listening to me
I'll speak of the Torah drawing them near
A light in the darkness, so pure and so clear

The voice that I heard from so long long ago
Is my inspiration to learn and to grow
I'll whisper its message, so simple and true
and if you just listen, it will speak to you

We'll follow that voice and soon there will be
A world where our children can live peacefully
The study of Torah, we hope and we pray
Will shatter the darkness turn night into day.

I'll whisper its message, so simple and true
and if you just listen, that voice speaks to you

These lyrics are copyrighted. The individual who uploaded this work and first used it in this article, and subsequent persons who may place it into other articles, assert that this qualifies as fair use of the material under United States copyright law.
Community content is available under
CC-BY-SA
unless otherwise noted.